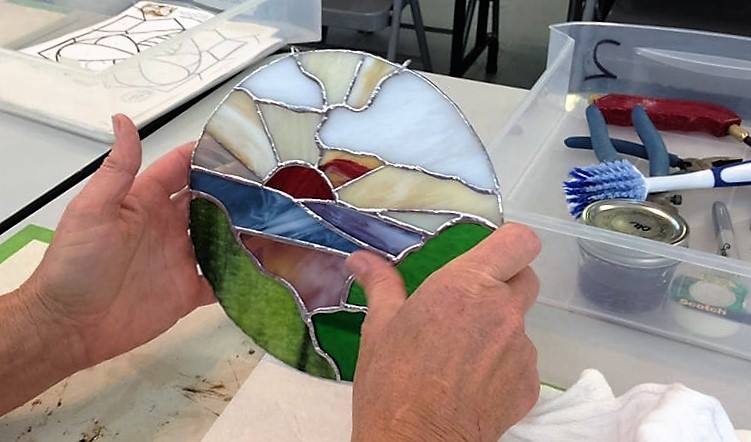 Note: This event has already passed.
Date: Sep 11 2018, 6 p.m. - Sep 14 2018
Arts and Crafts Center - 310 McPherson Ave (old USDB) Fort Leavenworth 66027 Google Map
Cost
BEGINNING STAINED GLASS- FOIL METHOD $65
In this class you will learn the method of stained glass that Louis Tiffany used to create beautiful windows and lamps for the millionaires of his time. This method involves cutting colored glass from pattern pieces, then wrapping them with copper foil and soldering them together. Easy, right? Come and find out! This class consists of four 2½ hour sessions to complete a project you have chosen from at least four options. All supplies for the project are included and you will learn how to use the classroom tools needed to create your masterpiece.
BEGINNING STAINED GLASS- LEAD METHOD $65
In this class you will learn the lead method of stained glass that is used in most window installations in homes and churches. Lead came is used in this method to surround pieces of glass that you have cut from a pattern. The lead is then soldered only at the intersections to provide a smooth continuous line throughout the piece. This class is four 2½ hour sessions to complete your project before taking it home to enjoy forever. Again, all supplies are included and tools are provided for the class.
INTERMEDIATE STAINED GLASSES $85 - excludes supplies
In this class we will take it up a notch. Once you have taken a beginning class here or elsewhere, you can explore a more intricate and/or larger pattern to challenge your skills. With the skills you have already learned, and guidance of our instructor, you will complete a more complex panel or window of your choice. Advanced methods will be discussed and implemented and new tools will be introduced and demonstrated. Price excludes supplies, but you will use our tools to fabricate a piece that can be installed in your home.
Registration Info
Registration can be done at the Art & Crafts Center
Contact